COVID-19 Update

From 5th January 2021 - The restaurant is closed due to national lockdown.
We are open for Takeaway and Deliveries.
Hours - Tuesday to Sunday 5pm to 10pm
Closed Mondays except Bank Holiday Mondays.

10% discount is available from our
MENU
for collection of your order.
Delivery is limited to 3 miles radius, minimum order of £15.
Please observe Safe Distancing Rules.
Our Opening Hours May Change Subject To Local And National Restrictions.
Local authority and national government will override our normal hours.
Many thanks for your continued support.
'I'm so humbled' says George after being awarded the BEM - British Empire Award in Queens Birthday Honours.
"I really don't know how to say a huge thank you from thee bottom of my heart to all the well wishers, this award is for you all"
OSWESTRY MAN awarded British Empire Medal (BEM) in the Queen's Birthday Honours
Mr George Miah (BEM) has been awarded a BEM for his services to the community throughout the town.
The honours list recognises the achievements of a wide range of extraordinary people across the United Kingdom and is an award given by the Queen for outstanding service to the community or local 'hands on' service.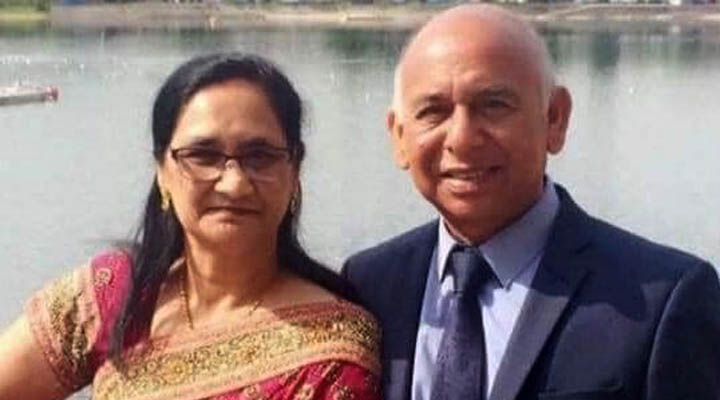 Mr Miah, opened his restaurant, The Simla, in Oswestry 44 years ago, and has played a huge part in the community ever since.
He said his British Empire Medal was overwhelming and a complete shock.
Mr Miah has raised hundreds of thousands of pound for charity over the years, mainly Shropshire charities and good causes but also to help the Indian sub continent.
He and his wife Julie also have links with several local schools, helping to give the pupils an understanding of Indian culture or getting involved with their international week celebrations.
The charity work is a whole team effort involving the family and my staff," he said.
"It is something that I have done, quietly, for a long, long time."
He has also spent many years involved in the Muslim community for Shropshire and beyond.
The list is usually published in June, when the Queen celebrates her official birthday, but it was postponed so that individuals who played crucial roles in the first months of the coronavirus outbreak could be added.
Oswestry Life Magazine, October 2020.
Situated in the heart of Oswestry, the Simla Tandoori Restaurant is one of the oldest Indian restaurants in Shropshire and the surrounding areas.
The perfect blend of traditional Indian cooking served with Shropshire hospitality, the Simla in Beatrice Street Oswestry serves classical Indian food.
Celebrating over 3 decades of culinary excellence this family owned business has created mouth-watering Indian dishes that replicate the high quality of cuisine enjoyed by the army officers at the old hill station in north west India during the British raj, from which the restaurant draws its name.
Choose to dine in at Simla Tandoori Restaurant in Oswestry or order an Indian Takeaway by calling 01691 659880.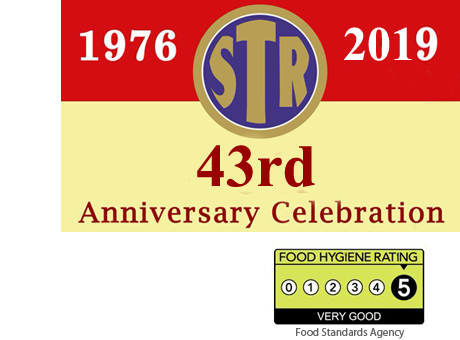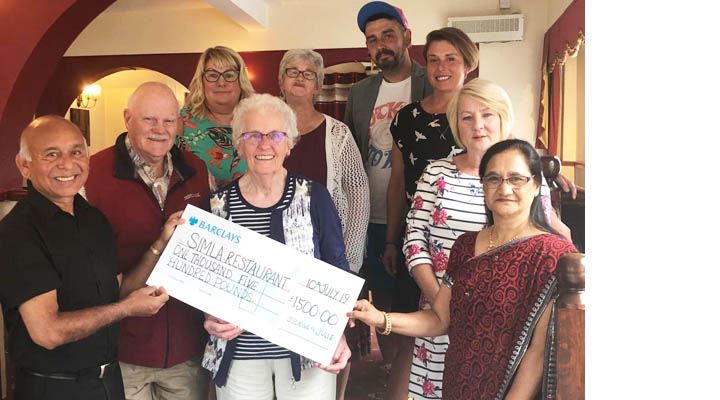 Simla Oswestry Supporting Local Groups For 43rd Anniversary Celebrations
Another great turn out to help celebrate our 43rd anniversary of serving home cooked traditional food in Oswestry.

Each year our birthday party evening includes live entertainment, lots of fun and fund raising events for our chosen charity. This year we donated £1,500 to a number of local groups in and around Oswestry.

We are passionate about Indian food and select the finest ingredients to guarantee the dining experience our customers have come to expect from us. We are proud to be apart of the Oswestry community and each year support a number of local charities by raising money for them at our annual birthday party, view our gallery
George, Proprietor Simla Oswestry
Choose to dine in at Simla Tandoori Restaurant in Oswestry or order a takeaway by calling 01691 659880.
Open Sunday to Saturday - 5:30pm to 11pm.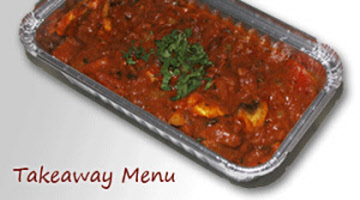 Free delivery up to 3 miles radius, minimum order £15.
Takeaway Menu
call 01691 659880.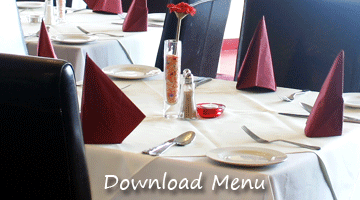 Download PDF

Restaurant Menu

- Simla Tandoori Restaurant in Oswestry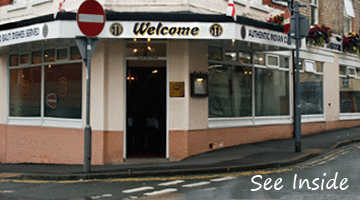 Take a 360° Virtual Tour

Inside Simla Tandoori

Restaurant in Oswestry
If there was a 6 I'd give it to them!
Fabulous delivery made by George himself. Fabulous meal for two for my birthday. All as good as an eat in meal. His chef and family go the extra mile. Really good food
Julie R, Jan 2021
Superb food. Seriously. I have been for many curries across the country and this was by far the best. Friendly, helpful staff too.
Lisa Oliver, Oct 2020