Eat Inside Our Restaurant - Book A Table Now
COVID-19 Update


We are open
Tuesday to Sunday 5pm to 11pm
Closed Mondays except Bank Holiday Mondays.

10% discount is available from our
MENU
for collection of your order.
Delivery is limited to 3 miles radius, minimum order of £15.
Government guidance continues to recommend that face coverings are still worn. To ensure the safety of you and our colleagues, we ask that you continue to wear a face covering if you can and observe social distancing where possible.
Many thanks for your continued support.
Welcome to the Simla, Oswestry's most established Indian restaurant and indeed one of the oldest of its kind in Shropshire and the surrounding countryside.
The restaurant opened in 1975 and takes its name from an old hill station in North West India. The area became a favourite weekend retreat for officers during the days of the British Raj since it offered a cool climate and a break from the heat of the Indian plains. Many important treaties and trading agreements were also signed at Simla.

From the British Raj to 21st Century Oswestry, the name Simla has always been associated with a degree of culinary excellence and this is adequately reflected in the menu and fine wine list which we are proud to present.

Choose to dine in at Simla Tandoori Restaurant in Oswestry
or order an Indian Takeaway by calling 01691 659880 or 653818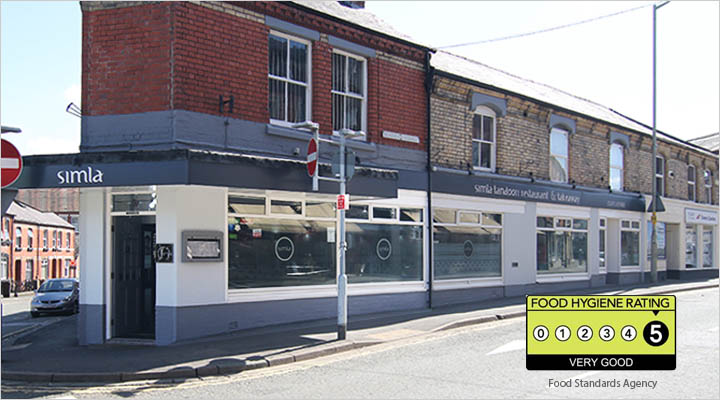 Very smart restaurant and we thoroughly enjoyed our food
Kristina Prottey…Feb 2021
The food was amazing, cooked perfectly and tasted amazing. Staff were brilliant, friendly and very helpful
Nick Gerrard...Dec 2020
The staff were amazing. Friendly, family orientated and excellent service. Not rushed but timely service
K&K Telford...Oct 2020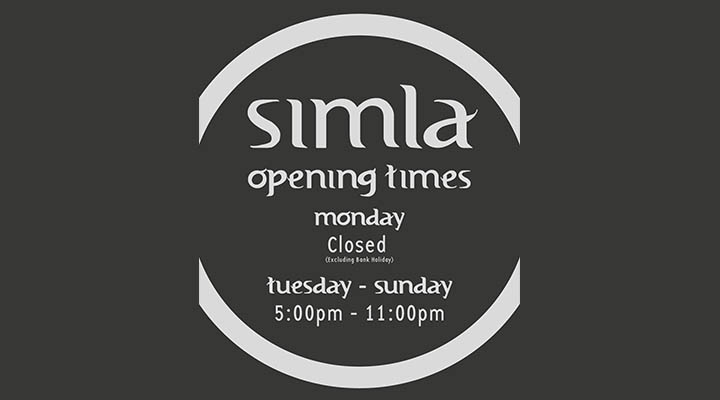 Choose to dine in at Simla Tandoori Restaurant in Oswestry or order a takeaway by calling 01691 659880. Free delivery up to 3 miles radius, minimum order £15. Takeaway Menu